Buying A House? Look For These 10 Things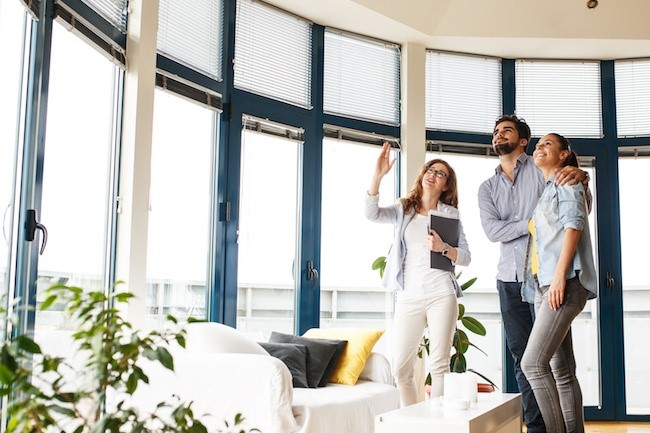 Shopping for a new home can be overwhelming. With such an expensive purchase and long-term commitment, you want to be certain you're going to be satisfied.
In this article we'll talk about what to look for when buying a house and what you need to consider when evaluating the most important elements of a home.
Of course, choosing a home is a highly personal decision. As you think about the different aspects of a home, rank their level of importance to your needs and then decide which ones are negotiable and which ones are deal-breakers.
If you haven't already, you should determine how much home you can afford and what kind of area you'd like to live in (include neighborhood and school district in your decision) before you start seriously looking at houses.
House Size Matters
You should have a general idea of what size house you want before you do too much hunting around, including a minimum and/or maximum square footage and the number of bedrooms and bathrooms you'll need.
What size house you should buy will depend on your needs and your personal preferences. If you have a large family or plan on starting one soon, you'll probably need to look at houses with more square footage as well as more bedrooms and bathrooms. On the other hand, if your household is just you or you and a partner, it may make more sense and be more affordable to look at smaller houses.
While one of the main upsides of having a larger house is that you have plenty of room for members of your household in addition to house guests, there are also many pros to having a smaller home. Small houses are easier and cheaper to furnish, which can be helpful if you're just starting out. They also tend to be easier to keep clean and cheaper to maintain.
However, how small you can go before it goes from feeling cozy to cramped is also a matter of personal preference. It may be helpful to look at houses of various sizes to get a feel for what would work for you.
The Ideal Yard
Another matter of personal preference is what kind of yard you'd like. Do you want a lot of acreage, or would you prefer to avoid the responsibility that comes with having a big lawn? Maybe you want a home that sits back further from the road, providing a little more privacy.
You'll also have to think about what kind of features you want in the backyard. You can find homes with all sorts of natural and human-made features from streams and ponds to pools, hot tubs, patios, swing sets, decks, built-in grills and more. For some home buyers, these are attractive and useful features. For others, they signal liability, expense and time commitment. Alternatively, if a backyard doesn't currently have the features you want, is it suited to have those features added after you move in?
When considering what sort of yard would be good for you, think about lot size, maintenance requirements, how much it'll cost to maintain and what features you'd like in both the front and back.
The House's Exterior
Don't let your excitement about a perfect interior make you forget the importance of a sturdy exterior.
Your main line of defense against buying a home with a deteriorating exterior will be your home inspection, but it's still a good idea to keep an eye out for red flags on your own time or with a trusted real estate agent.
Here are some of the main exterior components you should be sure to check out when viewing a house:
Roof: This is a big one, as a new roof can cost $5,000 – $15,000 or more. Be sure to give (what you can see of it) a once-over, looking for any signs of damage. You may also want to ask how old the roof is, though you don't necessarily need to be turned off by an older roof. A well-maintained sturdy roof can last several decades depending on the material it's made of.
Foundation: Foundation problems are another issue that can cause a lot of heartache in the form of thousands to tens of thousands of dollars. To spot a bad foundation, keep an eye out for cracks in the walls (particularly those around doorways or windows). Doors and windows that stick or jam are another warning sign. Ultimately you'll want to get a professional to sign off on the state of the foundation.
Siding: Check out the exterior walls for any obvious signs of damage or disrepair. Look for peeling paint, rotting wood, cracks or other signs of decay.
Bedrooms
Whether or not the house's bedrooms are suitable for your needs will depend on what you plan on using them for. For example, families with small children might not want a house where the master bedroom is on a different floor from the other bedrooms in the house. If you plan on converting an extra bedroom into a home office, you might prefer a layout where the bedrooms are farther away from the hustle and bustle of the kitchen and living room. Ultimately it's going to come down to what best fits your needs.
Again, the sizes and number of bedrooms are important considerations. However, there are plenty of other factors you should also think about including closet space, sources of natural and artificial light, views from the windows, general privacy, whether there's an attached bathroom to the master bedroom and other factors.
One seemingly small detail that can end up being a big deal? Number and location of electrical outlets. This is especially important if the natural or built-in light in a bedroom isn't sufficient, as you'll be plugging in at least one or two lamps.
Bathrooms
When you're checking out the bathroom, make sure everything's in working order. With the seller or agent's permission, flush the toilets, test the faucets and even turn on the shower. Make sure the fan works. Look under the sink and around the toilet for leaks and water damage. Keep an eye out for mold as well. It may seem a little overbearing, but if you're seriously considering buying a house you want to make sure there are no post-move-in surprises like low water pressure or plumbing problems.
Make note of what type of shower or tub each bathroom has. Is it just a shower, or is it a shower and bathtub combo? Does it have glass doors or a curtain? Is the bathtub made of porcelain or a low-quality plastic? Bathroom renovations can be costly, so make sure you're either happy with the bathrooms as-is or prepared to pay for improvements down the line.
Living Room
What are you looking for in a living room? Do you want it to feel cozy and warm or chic and modern? Keep your ideas in mind when looking at the living room, but try not to let any current decor sway you. Instead, look at the basic layout and style of the room. Does it fit your tastes? Could you see yourself relaxing in this space?
If you already have furniture that you plan on moving into this room, how well do you see it blending with the style of the room? Buying new furniture isn't as expensive as purchasing a house, but it isn't cheap either. You want to make sure it's not going to clash completely.
Consider the layout of the room as well as the location of any wall outlets. Is there an electrical and cable outlet near where you'd want to put a TV? Is the room large enough for your needs? Do you want a carpeted living room for your kids to comfortably play?
Heating And Cooling Systems
Unless you work with them professionally, you probably aren't an expert in evaluating the condition of a home's HVAC system. However, there are still some basic questions you'll want answered, as the answers will affect your day-to-day life in the home.
Find out what type of heating and cooling system the house utilizes. There are several different types of systems to control the temperature of your home, each with its own pros and cons.
What kind of heating does the house have? A forced air system powered by a furnace? Does the furnace use electricity or gas, or does the house use something else entirely? Older homes might have a boiler and radiator system or a baseboard heater that uses electricity.
What about the air conditioner? Central air conditioning systems (where cool air is distributed evenly throughout your house via the house's air ducts) are very popular, especially in areas that experience hot summers. A common alternative to central air conditioning is a room air conditioner that's mounted on windows or through walls. Instead of distributing air through ducts, these units blow cool air directly into the room in which they're located.
Be sure to find a house that utilizes heating and cooling systems you'll be happy with. Otherwise, make sure you understand what would be required to have a different system installed. Not only can installation of a new system be costly, but if you're going from a ductless system to one that utilizes air ducts there needs to be enough space within your walls to install it.
The Basement
When viewing the basement, make a note of whether it's finished or remodeled. Some people prefer a finished basement for added living space.
Keep an eye out for signs of water damage. Take note of any musty smells and look for water stains or mold growth. You should also consider having a radon test done as part of your eventual home inspection as basements in some areas exceed the maximum radon levels outlined by the Environmental Protection Agency.
If the basement is finished and you plan on spending a lot of time in it, pay attention to how much lighting it has. It should also have at least one accessible door or window in case you need to get out quickly in an emergency.
The Attic
If you get the chance to peek into the attic yourself, look for signs of leaks and damage to the roof's structure. Be on the lookout for animal droppings as well, since that could indicate an infestation you need to worry about. Rodents in your attic can cause a lot of damage.
Also take note of the attic's ventilation and insulation. What kind of insulation is it? Does it appear wet or water-stained? These are concerns you should mention to your home inspector.
The Garage
Do you need a lot of storage space in your garage or room for a workbench? How much space do you need in your garage? If you have more than one car or plan on using it for an additional purpose outside of parking, you might want a multiple-car garage. Make a note of the total amount of parking space the lot has including the length and width of the driveway and if there's street parking available.
When leaving, ensure that the garage door works well and appears to be in good condition.
Final Thoughts On What To Look For When Buying A House
Ultimately, every house you look at will have pros and cons. It's up to you to decide for yourself which aspects you can't live without, which ones you can't live with and which ones you're willing to compromise on.
Keep in mind that, while it's important to consider all the aspects we discussed when hunting for your dream home, no home is going to be without at least some faults. Even your dream home might need a bathroom remodel, a new range or even a new roof. While the goal should be to find a house that satisfies most of your needs and some of your wants, no single home is going to check off all your boxes.
Buying a new home can seem overwhelming, but the whole process will be a lot more manageable as long as you know what to look for and what questions to ask.